'Shibari Suspensions 2019: A Step by Step Guide'
Regular price

$0.00 USD

Sale price

$24.00 USD

Unit price

per
This book offers a comprehensive overview of the techniques used in shibari suspension.
DISCLAIMER: Shibari suspension is risky and we do not advise learning it without in person tuition. This book is best used as supporting material.

The art of Japanese-style rope bondage has become increasingly popular in recent years both for its beautiful visual aspect, and for the intimacy it creates between tying partners. This detailed reference book of fundamental suspension techniques will help you understand both the ties and the body that is tied. Its easy-to- use structure encourages you to think creatively and adapt everything to your own needs. It emphasises learning for both riggers and models by explaining rope from both perspectives. Begin adding gravity to your rope play sessions with the range of simple partial suspensions – whilst building up the tools to learn the more challenging full suspensions.
Share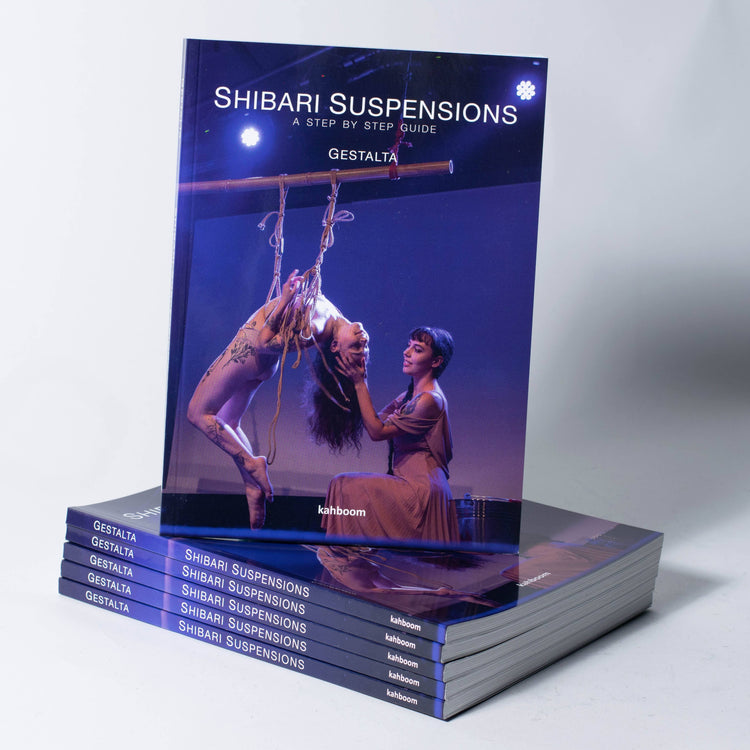 Beautiful, comprehensive and detailed
The book contains a surprising amount of information and it is presented in a well organized and easy to understand manner. Every page is packed with full color photographs, it's a work of art.
Great intermediate book but a little short
Delivery from the rope shop was super quick and discrete. The book itself is excellent as an entry point into Shibari and basic suspensions, but it's quite short. It goes through a few key harnesses like the TK and Futo, and the principles of locking off, but that's about it. I guess I was hoping for more harnesses (e.g. an Agura) and more discussion of things like transitioning and how to judge the correct tension of uplines given that it's a book about suspensions. Perhaps it would be too dangerous to write a book about that staff rather than ask people to take tutoring. I did learn a lot of little tips and tricks from reading through the book carefully. The section on carabiners, for example, was fantastic - better than anything else out there I'd say. Absolutely worth the price.
Fantastic service and fast delivery
All delivered in a lovely and discrete black envelope, and very speedy.
Just Rope
I love it. Would highly recommend it.
fast n serious
Superfast delivery. Top score. Will use this shop more in the future